Aerial overview of the existing Santa Ana Bridge
looking upstream on the Ventura River
A ceremonial groundbreaking event was held on Monday June 7 to kick off the Santa Ana Bridge Replacement Project. Project sponsors Sam Jenniches (California Coastal Conservancy) and Mary Larson (Ca Dept of Fish and Wildlife) were present along with Supervisor Matt LeVere and representatives from the Ventura County Watershed Protection District and Transportation Department and their contractors. This is the first major project component of the Matilija Dam Ecosystem Restoration Project.
Design work was sponsored by the California Coastal Conservancy and construction is funded through a $13.4M grant from Ca Dept of Fish and Wildlife. The project will replace the existing 210-foot long Santa Ana Bridge with a 350-foot bridge to open up a constricted section of the river in Oak View. Widening the channel by 80 feet will improve water and sediment flows, facilitate natural ecosystem processes through restoration of natural sediment transport and deposition, and reduce the need for channel maintenance in the vicinity of the bridge following large storm events.
L to R: Chris Hooke, Ventura County Transportation Dept; Mary Larson, CDFW; County Supervisor Matt LeVere; Glenn Shephard, VCPWA-WP; Sam Jenniches, Coastal Conservancy; Paul Jenkin, Matilija Coalition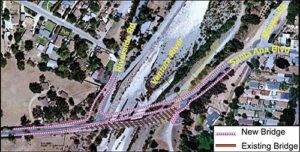 more info:
Santa Ana Bridge replacement awarded $13.4M grant
in the news:
New Ventura River bridge could help endangered trout, agencies-move-step-closer-tearing-down-matilija-dam-near-ojai, VCStar, June 5, 2021
Start of Santa Ana Bridge replacement project brings Ventura County one step closer to removing Matilija Dam, KEYT, June 6, 2021
Bridge means end is nearer for dam, Ojai Valley News, June 11, 2021